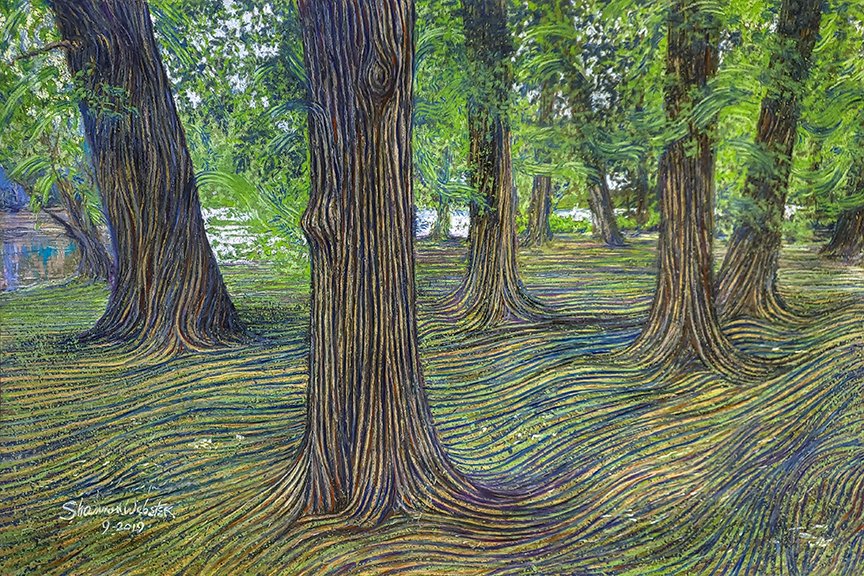 Claremont Landscape Garden, Escher, Surrey, England
24" x 36" pastel on board
SOLD Original pastel painting available for purchase. Contact us for more information about prints.
Current Prints in Inventory Ready to Ship or Pick Up in Studio
New items will be arriving soon. Allow 2-3 weeks for custom orders.
Wall St. Vertigo Framed and Matted Print 35.5 in. x 18.5 in. OD $365
Wall St. Vertigo Framed and Matted Print 37 in. x 20 in. OD $375 SOLD
Wall St. Vertigo Canvas Print 40 in. x 18 in. $325
Wall St. Vertigo Canvas Small Print 20 in. x 9 in. $85 SOLD
St. Louis City Museum Slide Canvas Small Print 26 in. x 9 in. $95 ~BUY~
St. Louis City Museum Slide Canvas Print 40 in. x 12 in. $325
St. Louis City Museum Slide Canvas Print 40 in. x 12 in. $325 SOLD
Crossing Over (Katy Bridge) Canvas Print 28 in. x 15 in. $275
Crossing Over (Katy Bridge) Canvas Print 28 in. x 15 in. $275
Trees & Water (Missouri Marsh) Canvas Print 40 in. x 20 in. $325